Regular price
Sale price
$114.00
Unit price
per
Sale
Sold out
For those who seek the hoppiest brews of them all, this box is your grail🙏🏆!

Expect to find your fill of the freshest Pale Ales, IPAs, and perhaps some higher alcohol Imperials, hopped dark ales, and other lupulin-loaded surprises cool packed and shipped to your door every two months!
Each box includes 12 different beers and an insert that contains information about each brew and the hops they use.  With every month's selection being different, you'll never go on the same quest twice! And, while we like to keep upcoming boxes a surprise, once it's out in the wild we publish the current box line-up!
View Current & Past Hop Quest Boxes
SHIPPING INFO
Hops are heat sensitive, so on the morning of shipping, fridge-fresh beer is packed into our very own Hop Quest insulated shipping box, including a cold-pack that will keep your beer cool for 36 hours during transit. Whilst this pack isn't designed to keep your beer fridge-cold, it will ward off any temperature shock on it's journey.
PICKUP INFO
Boxes will be available for collection at out bottleshop, which is airconditioned and relatively temperature stable, but please note these boxes will NOT be stored in the fridge due to space limitations.
Payment Date: 21st of the month
Payment Months: February, April, June, August, October, December
View full details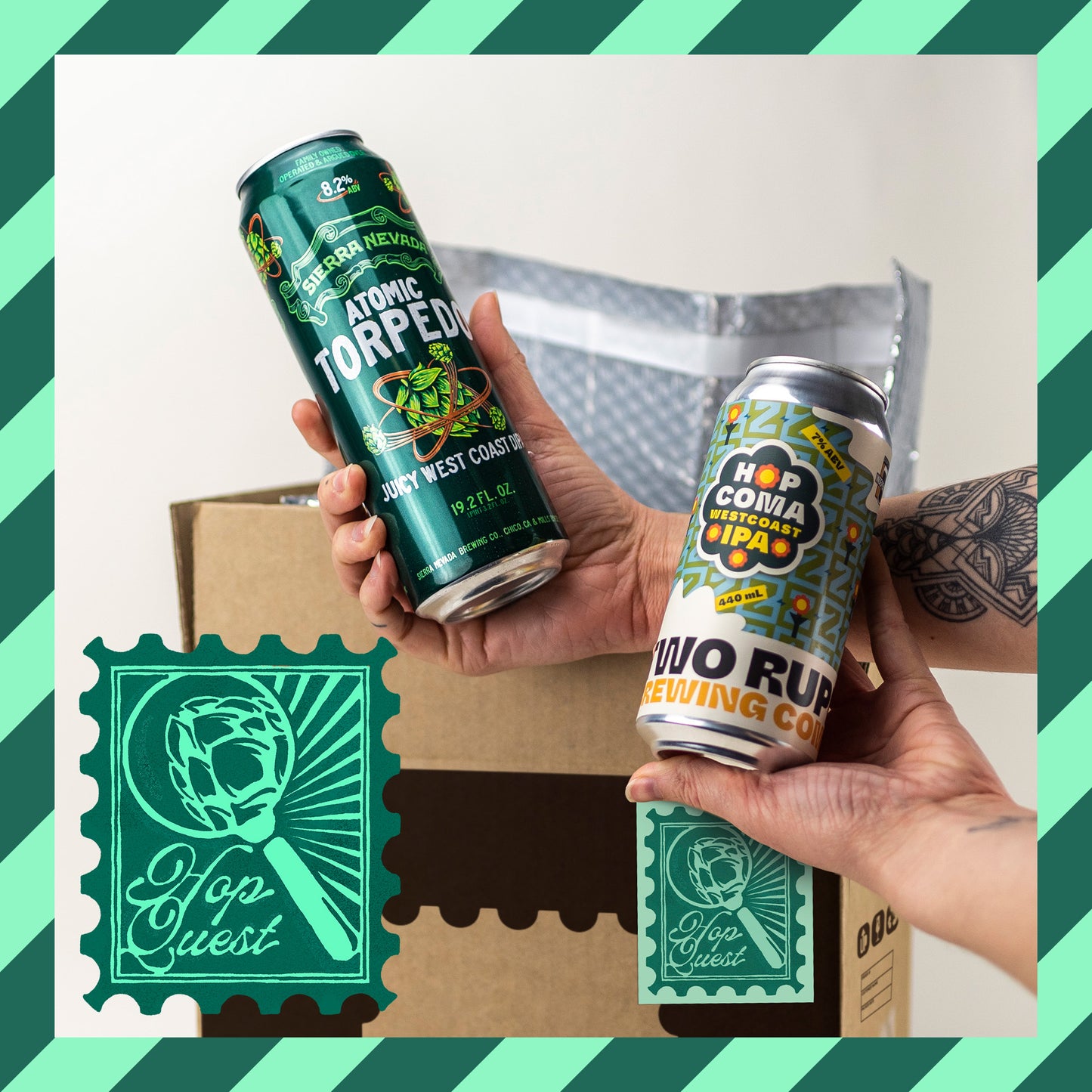 Everything you need to know about our subscriptions!
When will I get my booze?

Your first subscription box generally is sent out immediately, provided you don't fall in the 'Buffer Zone' (don't worry, it's not as scary as it sounds!).

Once we have received your order, we aim to get your box sent out within 5 business days.

For one-off gift boxes, we aim to get it sent within 3 business days (stock permitting).
What is this 'Buffer Zone'? 

It's essentially the crossover period from when we move on from one month, to the next month's specific box. We set this up so you don't get two of the same boxes in a month when first joining!

You can find the specific subscription cycle on the product pages, or find out more on How it Works. 
Can I change how often I get my box?

Everyone gets their subscription either monthly, bimonthly or quarterly, depending on the product. BUT you can easily skip your next delivery or pause your subscription at any time from the My Account page.
Can I add a gift note?

Sure, you little cutie! In the 'notes' section of the check-out you can request a gift note there. We try to hand write these when we can - so just be aware that all your weird messages get read and written by real human beings! We love a bit of a chuckle, but just keep it in mind!
Can I get a list of what's in the box purchasing before hand? 

Each month's selection will be different and, while we like to keep upcoming boxes a surprise, once it's out in the wild we publish the current box line-up!

Take a peek at the latest releases here.